Gender equality
The targeted promotion of gender equality and the elimination of any existing gender-based disadvantages are important for GIZ. The GIZ Gender Strategy, with its four objectives and five strategic elements, is geared to the company's vision – we work to shape a future worth living around the world – and to the four areas of action of the Corporate Strategy – effectiveness, value for money, business development, and expertise and alliances.
Implementing the Gender Strategy, monitoring progress and reporting annually to the top executive level is the responsibility of GIZ managers across the company. The Management Board has also published guidelines on putting the strategy into practice. A well-established gender architecture is responsible for coordinating strategy implementation, monitoring and reporting, with a Gender Ambassador, a Gender Commissioner and a company-wide network of gender focal points in every department and unit right through to project level. It is the declared goal of the Gender Strategy to foster and realise equal opportunities and rights for all, both within the company and as part of our commissions and services, irrespective of gender, sexual orientation or sexual identity. In addition, since 2015, GIZ has supported the Women's Empowerment Principles – seven principles to strengthen women inside companies. This is another way in which GIZ is striving to achieve gender equality.
With these measures, GIZ is positioning itself as an important development actor and a partner in implementing the 2030 Agenda, the United Nations Security Council Resolution on Women, Peace and Security, the EU Gender Action Plan 2021–2025 adopted in 2020 during Germany's Presidency of the Council of the European Union, and the BMZ 2030 Reform Strategy, which makes 'human rights, gender equality and disability inclusion' mandatory quality criteria.
In order for the strategy to be implemented successfully, it is imperative that gender issues are taken into account consistently at an early stage in all decisions at corporate level, as well as in the work of individual projects. The Safeguards+Gender Management System ensures that opportunities to promote gender equality are identified from the outset in each project, along with any external risks or potentially adverse impacts from our activities, and that they are addressed during subsequent implementation.
The success in implementing the strategy in 2020 is reflected in the high level of interest expressed by the European Commission, BMZ and other commissioning parties and partners in the work of GIZ. Chiara Adamo, Head of Unit for Gender, Human Rights and Democratic Governance at the European Commission's Directorate-General for International Cooperation and Development (DG DEVCO), and Birgit Pickel, Head of BMZ's Directorate 41 (2030 Agenda; democracy; human rights; gender equality; education; Commissioner for the 2030 Agenda for Sustainable Development) attended the presentation of the 2020 GIZ Gender Awards in March 2020. They praised the excellent entries of the prize-winners and put them in the broader context of European and international development policy. Out of the total of 121 entries for the 2020 Gender Competition, 100 of them demonstrated the steps GIZ is taking to promote gender equality in a wide range of sectors of international cooperation. GIZ projects are setting new standards in the consideration of gender issues, in areas as diverse as media, transport and the extractive industries, as well as in food and nutrition security. A further 21 entries illustrated what GIZ is doing to realise and foster gender equality within the company itself. All 121 competition entries are documented on the gender website where they are categorised by SDG, topic and focus.
In September 2020, BMZ and the European Commission presented their political objectives at the GIZ-wide digital gender network meeting, attended by more than 540 participants. Members of the International Development Innovation Alliance (IDIA) took this opportunity to present their new publication, entitled 'Innovating to Address Gender-Based Violence'. GIZ was involved in the preparation of this publication.
In November and December 2020, GIZ took part in the international campaign '16 Days of Activism Against Gender-Based Violence'. It also supported an exhibition to publicise in particular the recommendations issued by the Organisation for Economic Co-operation and Development's Development Assistance Committee (OECD DAC) to end sexual exploitation, sexual abuse and sexual harassment in development cooperation, with GIZ Managing Director Ingrid-Gabriela Hoven issuing a call for action.
The Gender Commissioner's publication 'Step it up for Gender Equality at GIZ and around the world' also offers key information about the implementation of the Gender Strategy at corporate, country and project level.
Equal opportunities within the company
GIZ's equal opportunities policy is designed to eliminate any gender-role-based disadvantage in the workplace and to ensure that women and men enjoy the same career development opportunities at every level and in every area of the company. GIZ has a dedicated structure for formulating and coordinating the company's gender equal opportunities policy. At the top are the Labour Relations Director from the Management Board and the Director General of the HR Department. Equal opportunities commissioners who are elected by the workforce advise the company on matters relating to equal opportunities and act as contacts for all employees, irrespective of their gender identity, at the three German sites. GIZ has been systematically adopting HR measures to achieve equal opportunities since as far back as the 1990s, and these efforts have been successful. At the end of 2020, 45 per cent of all leadership and management positions were held by women. Inside Germany, the figure was actually about 53 per cent, but there is still scope for improvement in the country offices and in projects outside Germany. Even here, however, the company has made tremendous progress over recent years. Forty per cent of management positions in the field structure are now held by women.
Ensuring equality at GIZ also means opposing gender-based discrimination against LGBTIQ+ staff at work and giving all employees equal opportunities. The company's policy is based on an employer/staff council agreement. It complies with Germany's Federal Equal Opportunities Act but gives GIZ a separate, specific equal opportunities structure.
One important element of the policy is the Equal Opportunities Plan, which in 2020 again set out a series of goals and measures for a further three years, aiming to consolidate what has been achieved so far.
The company's three equal opportunities commissioners again organised events relating to a great many aspects of equal opportunities in 2020, including unconscious bias and the policy to ban sexual harassment in the workplace. Other events offered support for accompanying partners and showcased the new relocation service as well as the pilot phase of the co-leadership model. This five-year test phase offers various ways of sharing managerial and leadership responsibility and has generated considerable interest, especially among women who are considering taking on a managerial role.
In 2020, GIZ conducted a remuneration check over a period of several months to ascertain whether there is a gender pay gap in GIZ's system of remuneration that would systematically disadvantage women. Results are expected in early 2021.
In February 2020, GIZ's new Code of Ethics came into effect. It reaffirms the ban on discrimination of any sort and on any sort of inappropriate sexual behaviour. On this basis, and with the participation of all relevant units within GIZ, a proposal was drawn up in 2020 to improve GIZ's grievance mechanism. The changes are to be realised in the course of 2021. The revised Code also translates into practice the OECD DAC recommendations on ending sexual exploitation, abuse and harassment.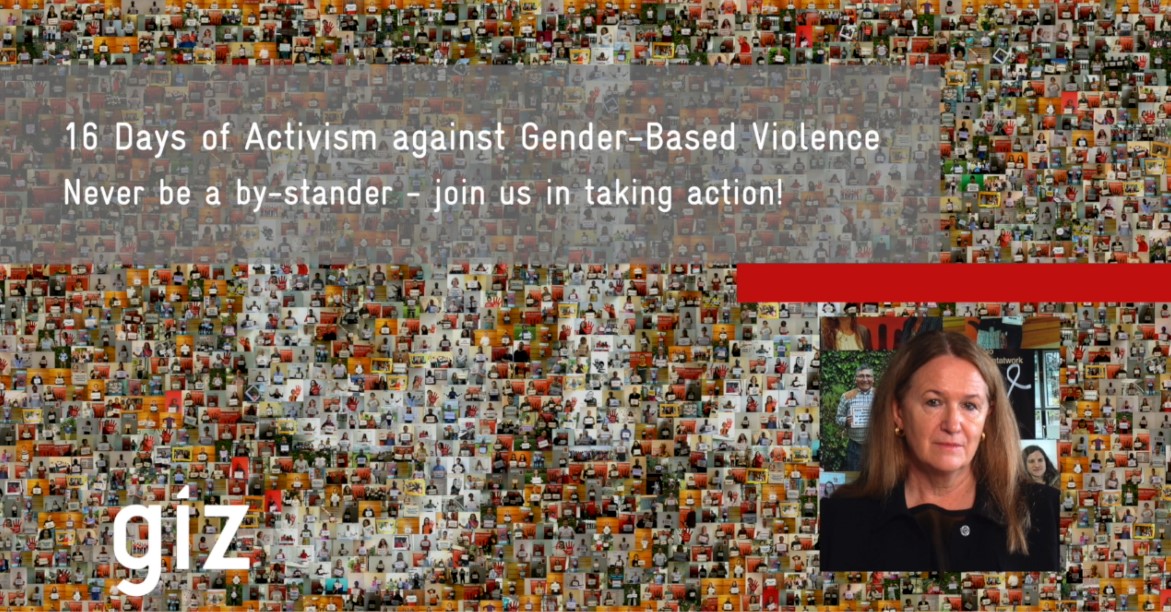 Information on the following Sustainable Development Goals (SDGs) can be found on this page: