Sharing experiences, safeguarding quality
Our understanding of quality
Quality plays a pivotal role in ensuring the sustainability of our work. Our understanding of quality is based on international standards. We also use the Capacity WORKS management model, supplemented by monitoring and evaluation. Our work is subject to regular external audits.
Quality means achieving positive results. Our understanding of quality is also based on the following factors:
sustainability-based values
economical use of resources
efficient steering, and
compliance with rules and regulations.

Behind each of these factors are procedures, instruments and processes that are geared to specific needs. The Quality House model is GIZ's internal frame of reference for our understanding of quality. It gives an overall picture of these individual elements.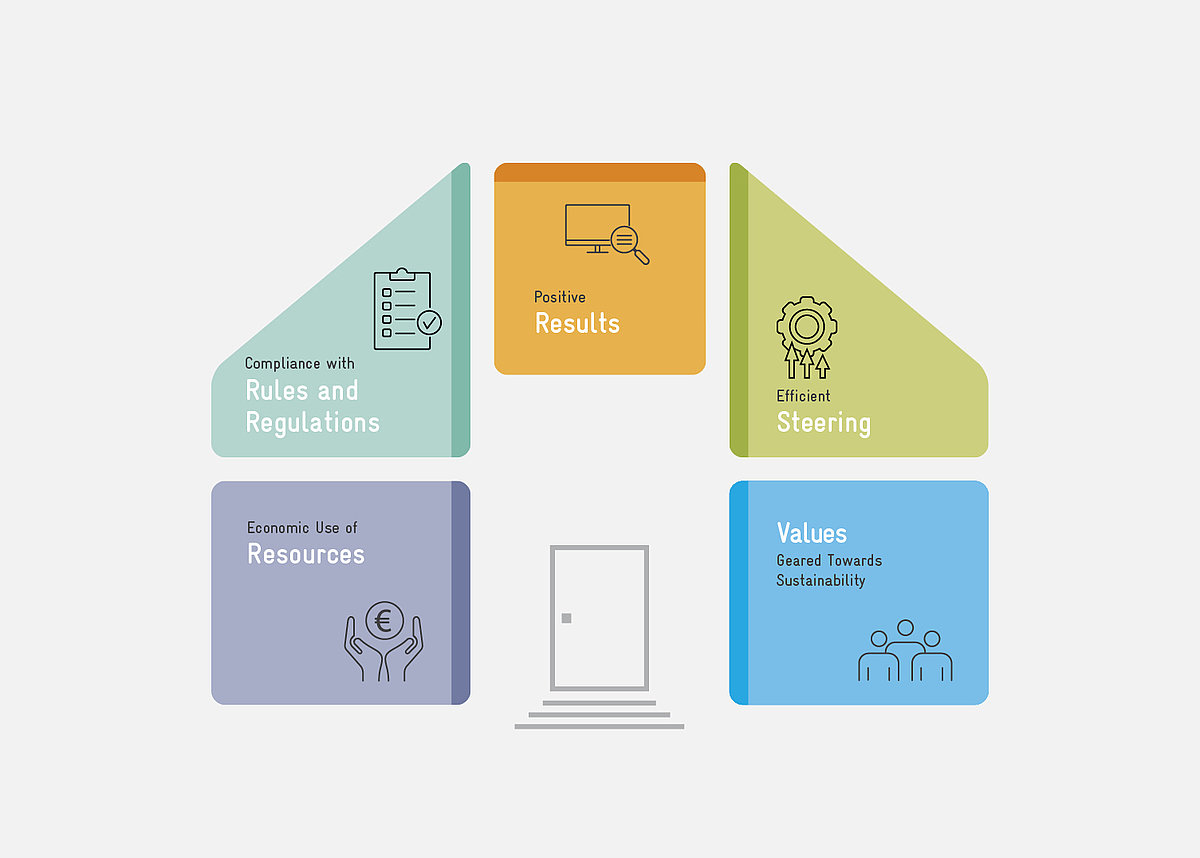 Decentralised quality management
Our quality management and the underlying procedures and requirements are implemented on a decentralised basis, and responsibility for them lies with the relevant organisational units. The main actors are the officers responsible for managing and implementing our commissions, along with their specialist staff and managers. They have a particular duty to ensure the quality of our work. Quality management is a leadership task. Nonetheless, all staff obviously contribute to it through their day-to-day work. After all, quality assurance is a continuous process that never ends.
We are continuously striving to improve our quality with the help of regular surveys among staff, external stakeholders and commissioning parties. Corporate strategic evaluations of topics such as gender and cofinancing arrangements, or even explicitly of quality management in our projects, are another instrument in our toolbox.
External quality controls
GIZ also undergoes an annual external quality control audit by the German Federal Ministry for Economic Cooperation and Development (BMZ), which randomly selects 50 GIZ projects and then uses specific audit criteria to conduct quality checks. Special emphasis is placed on compliance with BMZ regulations on planning and implementation.
The audit criteria are:
compliance with development policy requirements
objectives system
offers and reporting
plausibility of the use of instruments, and
value for money.

Quality control by BMZ is important, as it allows auditors from outside the company to evaluate our projects from a different vantage point. The eighth external quality control audit took place in 2020. Because of the Joint Procedural Reform, under which BMZ revised the commissioning processes in dialogue with the implementing organisations between 2015 and 2019, the focus this time was on the audit criteria of value for money and plausibility of the use of instruments. GIZ and BMZ analyse the results and discuss any necessary steps. This ensures transparency and a joint understanding of our cooperation arrangements.

Learning and innovation
We want to be successful, effective and cost-efficient in the long term, so we regularly re-examine our actions and decisions. This enables us to learn from our own experiences – including the less successful ones. We have made this process an integral part of the 'learning and innovation' success factor in Capacity WORKS, the tool we use to manage and implement our commissions.
At the end of 2017, in the wake of digital change and the increasing complexity of the working world, we launched the strategic project on Cooperation and Leadership, which also contributes to learning at GIZ. As part of this, four principles were developed for cooperation within the company, one of which is 'Experiment and Innovate'. This means having the courage to try and to fail. We want to learn from our mistakes as early on as possible so that there is time to change course.
A key goal of the Cooperation and Leadership project is to support teams and organisational units around the world with experimenting and learning and, while doing so, discover good approaches for the company as a whole. Teams apply agile methods such as scrum and rapid prototyping, which help to train adaptive and flexible attitudes to implementing projects. This is becoming increasingly important, particularly in complex contexts that are subject to rapid change. Regular reviews or retrospectives in ongoing projects are of key importance here in flagging up successes and learning areas based on the needs and points of view of the partner organisations.
Governance structures for knowledge management and organisational learning were the particular focus of attention in 2020. Creating appropriate conditions for learning and handling knowledge transparently relies on collaboration across different organisational units. To facilitate this, a Knowledge and Learning Alliance was set up at the end of 2020. It is a company-wide network for knowledge management and organisational learning. It is managed by a core team comprising representatives from the Sectoral Department, the Academy for International Cooperation, the Evaluation Unit, the Corporate Development Unit and the Human Resources Department as the key units involved in knowledge management, and a Sounding Board, in which all other departments and project representatives add their ideas and initiatives and give feedback. The network integrates the key job categories involved in knowledge and learning; its reach extends across different departments, interest groups and organisational boundaries. It is currently still a work in progress.
The training courses offered by the Academy for International Cooperation also support GIZ staff and managers in their learning. The courses on offer are currently being refined in line with the Cooperation and Leadership principles. The establishment of a virtual learning environment is also in the pipeline.
At least as important as methodology are an open, respectful and constructive attitude on the part of staff and a culture that views mistakes not as failure, but as a consequence of courageous decisions and as an opportunity to develop and grow. In a world characterised by increasing complexity and rapid acceleration, it is sometimes inevitable that approaches that worked previously now no longer do so. The important thing is to acknowledge this and change course quickly.
In a specialist organisation such as GIZ, this requires a change in corporate culture. While expert knowledge was a key to successful projects in the past, the emphasis is now much more on knowledge sharing. Pooling know-how as a matter of course, transparent working practices and mutual assistance to overcome obstacles will characterise our corporate culture to an even greater extent in future. By creating space for discussing experiences, promoting networking and shaping the way we share knowledge, we will facilitate experimentation and learning within the company and in our work with partner organisations.
Information on the following sustainability standards can be found on this page:
The Code 6, 16