Around the globe vaccination is a polarising issue. Pharmacist Elysee Ama Bonsu Karikari-Agyeman has first-hand experience of vaccine scepticism. But her response has been to present the facts. 'Some people are reluctant, but now we can explain the benefits and the possible side effects of the vaccination.' The Ghanaian pharmacist is one of over 200 health service experts in Ecuador, Ghana and Morocco to have received COVID-19 vaccine training in 2021 by the Belgian research company P95. These three countries were selected for the project on the basis of World Health Organization (WHO) recommendations on account of having both national monitoring systems for vaccine safety and the opportunity to disseminate the newly acquired knowledge. The trained experts pass on what they have learned to other individuals working in their country's health systems.
The project was made possible by a development partnership between GIZ and P95 as part of the develoPPP programme. BMZ's develoPPP programme supports sustainable business initiatives in developing countries and emerging economies. P95 specialises in vaccine safety and effectiveness. While the company contributes its technical expertise, GIZ brings to the project its international network and trust-based links to partner countries.
'We teach participants how to use data from studies to identify safety signals, in other words information on any side effects,' explains Zuleika Aponte, the P95 team leader responsible for the online training. The project helps build the infrastructure for the pharmacological monitoring of vaccines, as well as the monitoring of their effectiveness, and in this way contributes towards efforts to overcome the pandemic.
Over the last 10 years, GIZ has launched some 500 develoPPP projects with private businesses on behalf of BMZ. About 60 per cent of the project volume, which totals over EUR 620 million, has come from private sector partners.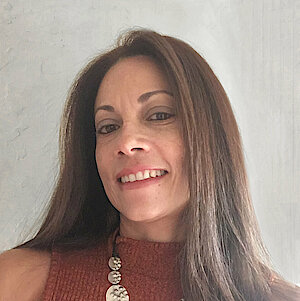 More about the develoPPP-program:
End poverty in all its forms everywhere
End hunger, achieve food security and improved nutrition and promote sustainable agriculture
Ensure healthy lives and promote well-being for all at all ages
Ensure inclusive and equitable quality education and promote lifelong learning opportunities for all
Achieve gender equality and empower all women and girls
Ensure availability and sustainable management of water and sanitation for all
Ensure access to affordable, reliable, sustainable and modern energy for all
Promote sustained, inclusive and sustainable economic growth, full and productive employment and decent work for all
Build resilient infrastructure, promote inclusive and sustainable industrialization and foster innovation
Reduce inequality within and among countries
Make cities and human settlements inclusive, safe, resilient and sustainable
Ensure sustainable consumption and production patterns
Take urgent action to combat climate change and its impacts
Conserve and sustainably use the oceans, seas and marine resources for sustainable development
Protect, restore and promote sustainable use of terrestrial ecosystems, sustainably manage forests, combat desertification, and halt and reverse land degradation and halt biodiversity loss
Promote peaceful and inclusive societies for sustainable development, provide access to justice for all and build effective, accountable and inclusive institutions at all levels
Strengthen the means of implementation and revitalize the global partnership for sustainable development
The 2030 Agenda and its 17 goals are important benchmarks for GIZ.