The victims of gang warfare, crime, sexual attacks and political assassinations are numerous. Honduras has one of the 10 highest murder rates in the world. In 2021, this Central American country recorded some 39 murders for every 100,000 inhabitants. That is more than six times greater than in Germany. This high level of brutality triggers stress and mental illness. On behalf of BMZ, one area in which GIZ experts are engaged is as development workers for the Civil Peace Service (CPS), offering psychosocial support services and fostering a culture of dialogue.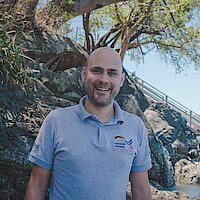 Interview with
Jasper Alders
Psychologist and development worker for GIZ's Civil Peace Service (CPS) in Honduras
Why is there a need for peace development in Honduras?
Honduras sees fierce and structural violence. This violence varies from domestic and gender-based violence to violence related to organised crime, and to socio-political violence that seeks to suppress critical voices in society. Surviving or witnessing violence affects social relationships and can reproduce itself over generations. During childhood, we learn from experience what safety is, how to establish trusting relationships, and how to manage disagreement and conflict. When structurally exposed to, for example, domestic violence it might become highly difficult for someone to know how to maintain safe relationships later in life, or how to resolve differences in a constructive and non-violent manner.
How do people deal with this?
Many Hondurans demonstrate remarkable resilience. However, unremitting exposure to violence, even if only viewed on TV, can lead to desensitisation. This is a normal human response to living in abnormal conditions. At the same time, it's impossible to be completely immune to violent incidents. Many of the people we work with report high blood pressure, sleeping problems, muscle pain and headaches. In Honduras, seeking mental support is not commonly done or accepted. Instead, people tend to seek medical help or engage in self-medication to reduce their stress or help them sleep. As such, there is much capacity building left to do to increase awareness on psychosocial topics. GIZ's CPS programme helps actors discover how to better handle the impacts of violence and to find potential paths for the transformation of this vicious circle of violence in Honduras.
What role do foreign experts such as yourself play as Civil Peace Service experts and development workers?
Our CPS team is quite diverse in terms of our professional background, our gender and age, our personal experiences, and our world views. As development workers we bring different technical viewpoints, we raise different questions, and, in a sense, we have a slightly more emotionally distant relationship with the conflict dynamics in Honduras. A little emotional distance can help us to consider conflict dynamics more calmly and see different steps towards conflict transformation. I believe that the value of foreign development workers lies in our closeness to Honduran society. We creatively combine our professional knowledge with that of our national CPS colleagues and that of our Honduran partners to develop and contribute to sustainable changes.
What specific support are you providing to the partner organisations in Honduras?
I provide a combination of specific technical support and psychosocial capacity building to our partner organisations and to the other CPS-GIZ projects in Honduras. In 2021, for example, I delivered a psychosocial course on stress, emotions and empathy to professionally working volunteers who support people in challenging situations and/or with violent histories. We considered the function of stress as well as various practices of how to listen to our body, regulate our stress, and use our emotions as valuable informants to our life's decisions. I also worked with a group of journalists, who are often the target of threats and violence in Honduras, on how to deal with angry interviewees, and with emotions when exposed to (verbal) violence. As part of our sustainable strategy we are currently developing a manual that can help our partner organisations to apply and replicate theory and methodology.
How has the pandemic changed your work?
I perceive that the additional stress caused by the pandemic has increased mental health awareness. I noticed that Honduran actors, including partner organisations, but also GIZ programmes, became more aware of the importance of staff- and self-care. Since we traditionally work closely with our partner organisations, the switch to mobile work due to the pandemic presented not only various challenges, but also opportunities. We produced a psychosocial newsletter and held interactive virtual workshops for participants from different regions at the same time. For psychosocial topics, however, constructing and maintaining confidential relationships is essential. It is easier to establish this and share personal experiences when you are in the same room.
You have a great deal of international experience: in what way have your assignments been similar?
I call it the beauty of human relationships. During times of crisis, people need to tell their stories, to feel heard, to be recognised, considered and respected. These stories are not always just about the disasters themselves. The Syrian refugees I spoke to in Greece in 2015, the survivors I supported in Guatemala after the eruption of the volcano Fuego in 2018, many of them told me about their beautiful country, their communities, the life that they had before their loss. In Honduras, despite the violence and hardship that many face, positive transformation also lies in telling and listening to those stories that bind us. This allows someone to feel and to be more than 'a refugee' or 'a victim', but someone with a complete story.
What would be your most important piece of advice?
Taking time to look after your own mental health allows you to be more attentive, calm and positive in supporting those who need a listening ear and a helping hand. Self-care can even help us to be more tolerant of those who challenge our patience.
Copyright: © GIZ / Zepeda CPS Honduras
End poverty in all its forms everywhere
End hunger, achieve food security and improved nutrition and promote sustainable agriculture
Ensure healthy lives and promote well-being for all at all ages
Ensure inclusive and equitable quality education and promote lifelong learning opportunities for all
Achieve gender equality and empower all women and girls
Ensure availability and sustainable management of water and sanitation for all
Ensure access to affordable, reliable, sustainable and modern energy for all
Promote sustained, inclusive and sustainable economic growth, full and productive employment and decent work for all
Build resilient infrastructure, promote inclusive and sustainable industrialization and foster innovation
Reduce inequality within and among countries
Make cities and human settlements inclusive, safe, resilient and sustainable
Ensure sustainable consumption and production patterns
Take urgent action to combat climate change and its impacts
Conserve and sustainably use the oceans, seas and marine resources for sustainable development
Protect, restore and promote sustainable use of terrestrial ecosystems, sustainably manage forests, combat desertification, and halt and reverse land degradation and halt biodiversity loss
Promote peaceful and inclusive societies for sustainable development, provide access to justice for all and build effective, accountable and inclusive institutions at all levels
Strengthen the means of implementation and revitalize the global partnership for sustainable development
The 2030 Agenda and its 17 goals are important benchmarks for GIZ.