There are many facets to displacement, and just as many reasons behind. How it unfolds over time is often uncertain. People who have fled their homes need help, and those hosting them – whether temporarily or long-term – must not be left to their own devices either. Mastering this challenge calls for a range of different actors and new ways of cooperating. Under the Global Compact on Refugees, the UN General Assembly drew up a Comprehensive Refugee Response Framework (CRRF). On behalf of the German Development Ministry (BMZ), GIZ is cooperating with the United Nations Refugee Agency (UNHCR) to develop new solutions within this framework.
Since 2018, they have been jointly implementing new approaches in selected countries for the growing number of people who have been displaced and do not expect to be able to return to their regions of origin any time soon. Communities hosting large numbers of people, where populations are rapidly rising, need action to ease the pressure, for example on infrastructure. At the same time, the position of displaced persons needs to be strengthened so that they can improve their lives themselves and escape from dependence on aid.
Achieving more together
To provide better support for refugees and host communities, UNHCR and GIZ are picking up on the idea of the humanitarian-development-peace (HDP) nexus. This approach combines acute humanitarian assistance, such as accommodation, with longer-term development cooperation and peacebuilding. That includes training and non-violent conflict resolution, areas where UNHCR and GIZ each contribute their specific expertise towards establishing new, joint approaches. As a result, direct cooperation with GIZ has begun in five countries, where UNHCR is drawing on its German partners' experience.
'The partnership with GIZ is highly valued by UNHCR, since it brings two different organisations with similar aims much closer together. They both aim to challenge mindsets, find solutions to long-term challenges and move from discussing the humanitarian-development nexus to actually implementing it in practice.'

Guido van Heugten, Donor Relations Officer for the United Nations High Commissioner for Refugees (UNHCR)
(© Guido van Heugten)
Prospects outside the refugee camps
One example is Niger. This African country is one of the poorest in the world and has taken in tens of thousands of people, many of them fleeing from Mali. To enable them to create a future for themselves outside refugee camps, GIZ is assisting them in building new residential areas in collaboration with local people. The aim here is also to provide a boost to the economy of the host communities.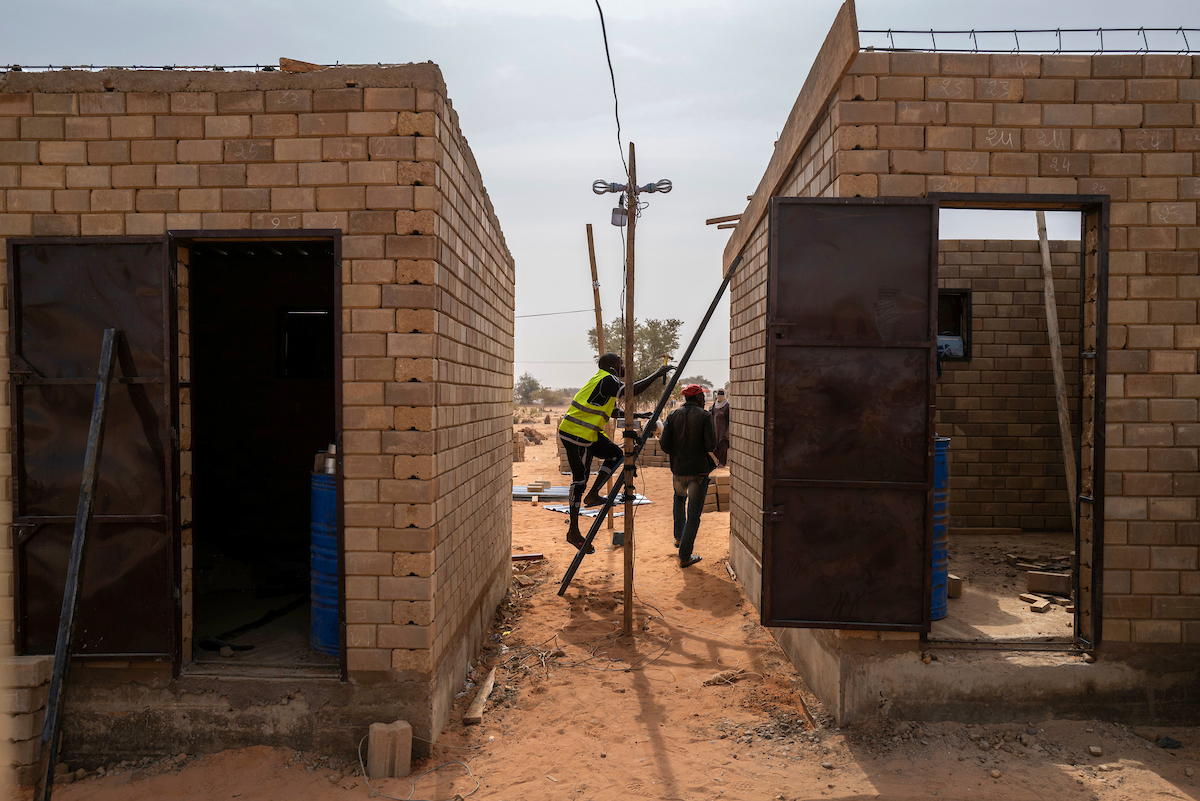 In Mexico, by contrast, the focus is on integrating refugees and migrants into the labour market and the host communities. In Uganda, Kenya and Ethiopia, on the other hand, efforts are directed at supplying electricity from renewable energy for refugee camps and settlements and their surrounding communities. Power supplies for everyone concerned can then be improved, while also enabling cost savings.
What links all these activities is the systematic appraisal and application of experience and successful methods. This helps strengthen UNHCR's position as a key player in long-term forced migration crises, and above all helps deliver lasting improvements to people's lives.
The project is part of BMZ's special initiative Tackling the Root Causes of Displacement, Reintegrating Refugees, which pursues the objective of eliminating structural causes of displacement such as poverty, inequality and food insecurity. A further aim for BMZ is to support internally displaced people in creating new livelihoods and generating prospects for their future.
Insights into our projects in 2019
We are active in some
120 countries

with

1,600 projects.


Discover the world of GIZ by learning about examples of projects undertaken in the 2019 reporting year.
We are active in some
120 countries

with

1,600 projects.


Discover the world of GIZ by learning about examples of projects undertaken in the 2019 reporting year.
Are you interested in other GIZ projects?