Our approach: results-based and cost-effective
Delivering high quality, efficiency, and sustainable results is our top priority. That's why we plan our project objectives carefully and regularly monitor the outcomes of our work. Managing commissions requires a clear picture of the status of our projects, the most promising approaches, and where there are lessons to be learned. It's the only way for us to ensure effectiveness and the cost-efficient use of resources – and therefore promote sustainable development.
A focus on results
is at the heart of our work
1. Planning results
International cooperation takes place in complex, often fragile political, social and economic contexts. Our projects aim to bring about positive changes in sectors, countries and regions. When planning this work, we define the intended changes as objectives that can be measured. This means we have to review and take account of potential interactions and unintended negative impacts during this phase. We do so using a results model that looks at the expected results, activities and instruments (HR, financing instruments and materials and equipment).
2. Achieving results
While the project is running, we work with our partners to achieve the defined objectives in stages.
3. Observing results
We use a results-based monitoring system to keep an eye on results. Based on defined indicators, it determines the extent to which project objectives or other results have been achieved. Moreover, key stakeholders are asked how they view and rate how the project is going. This helps to avoid any unintended negative impacts beyond the indicators. By observing the results, we can also produce analyses that are used to steer projects and make any necessary adjustments and, of course, also to learn lessons. Our results-based monitoring system also serves as the foundation for evaluation.
4. Reporting on results
We inform our commissioning parties on a regular basis about whether or to what extent the project's objective has been achieved. Moreover, the general public is increasingly interested in the effectiveness of our work. We regularly publish information making it clear how our projects help to deliver lasting improvements to people's lives.
5. Evaluating effectiveness
Evaluations are an important element of our work. Have we done the right thing? Have we achieved the objectives in a cost-effective and sustainable manner? What worked? What didn't? Why? Evaluations lay the groundwork for us to improve services, processes and structures, realign projects if necessary and learn important lessons for future projects.
Innovative and pioneering – the techDetector
Projects must be effective if we are to achieve the 2030 Agenda's Sustainable Development Goals (SDGs). Technological innovation offers great opportunities to reach development cooperation goals more quickly and efficiently. The techDetector helps to even better leverage the potential of these technologies for achieving the SDGs. GIZ worked with Envisioning and in collaboration with the Fraunhofer Institute for Industrial Engineering to develop this tool.
The web-based application presents 100 innovative technologies and is freely accessible to everyone. It covers everything from ideas for biobots – robotic insects designed to carry out tasks performed by extinct animal species – to prototype delivery drones.
The techDetector offers all German development cooperation partners insights into tomorrow's technologies. With just a couple of clicks, users can find specific examples and receive an assessment of the technology's readiness level and its potential impact on sustainable development. In this way, GIZ is able to make targeted efforts to build knowledge and networks in the area of technology innovation for international cooperation and facilitate knowledge sharing.
Learn more about the techDetector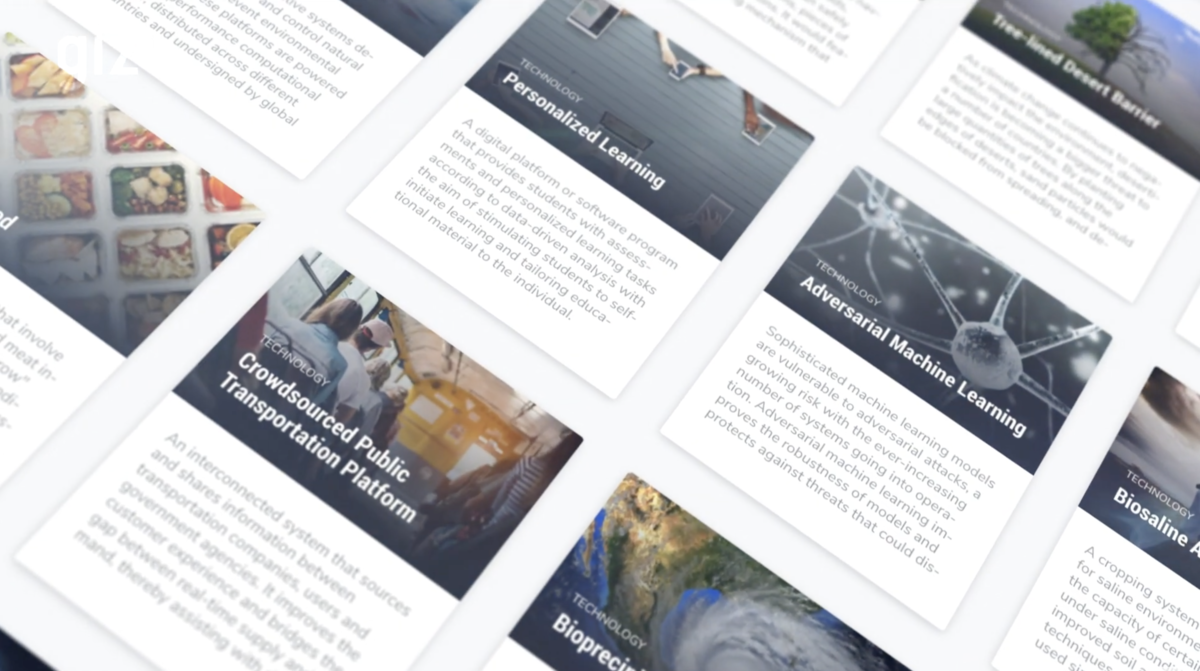 Video about the techDetector