Digital transformation
at GIZ
Institutionalising digital transformation in the long term
'Digital change is bringing sweeping change at an economic, political and societal level throughout the globe. Nothing is impervious to digital change — it even affects the field of international cooperation. The digital evolution continuously changes the way we work, offering new opportunities and business potential, yet posing considerable challenges too.' This is the opening to the foreword to the Guiding Framework for Digital Change at GIZ, published in 2015.
Now, five years on, a digital readiness assessment and benchmarking of achievements to date reveal a positive picture. The digital readiness assessment provided a critical outside perspective on digitalisation processes within GIZ and gauged where we stand compared with other public-sector institutions. The overall results of the analysis are positive. GIZ performs better in the benchmarking study than a comparison group in the public sector. The external consultancy firm recommended devoting greater attention to supporting the transformation. The Digital Board has taken this advice to heart and devised a range of measures.
Looking at the past five years, we can see how structures and responsibilities in this area have developed in organisational terms. They are now embedded within a dedicated department with an implementing and a coordinating role. Digitalisation has been sustainably mainstreamed within the company.
Integration into the Corporate Strategy
This mainstreaming was already reflected in the three-year Corporate Strategy for 2017–2019, which specifically addressed the topics of digital innovation capacity, business development in the area of digitalisation, capacity development and processes. This is being continued in the Corporate Strategy for 2020–2022, which focuses on digitalised end-to-end processes and data-driven and technology-based services. As a result, two of the Corporate Strategy's four focus projects make explicit reference to digitalisation. In addition, the Digital Literacy Action Plan is included as a separate annual objective.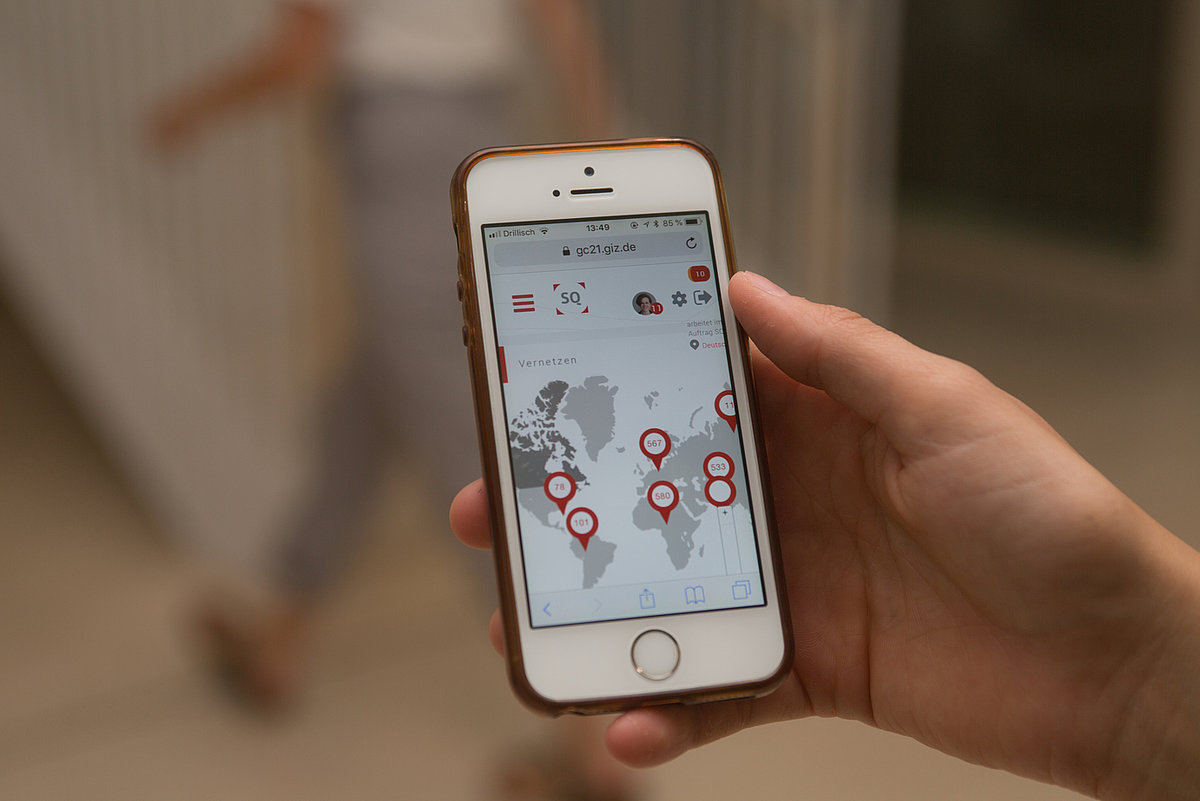 Digital working during the coronavirus pandemic
The way we work within GIZ is also changing and we now have access to modern digital applications. GIZ pushed ahead with the company-wide roll-out of Microsoft Office 365 applications in 2019. All staff now have the option of using Microsoft Teams as another conference tool in addition to Skype for Business. The company has also invested heavily in information security. As work becomes more digital, data security becomes more important. All staff have completed a self-learning module on information security. And multi-factor authentication has been introduced to protect GIZ's IT systems.
Digital literacy is another key aspect of digitalisation. Employees have a right to set aside time to acquire digital essentials – the skills necessary to work digitally and use relevant applications.
Digitalisation also plays a key role in GIZ's ability to act and to deliver services. Optimising, standardising and digitalising business processes around the world is crucial to delivery capability. Switching to SAP S/4HANA plays a major part in this. It is therefore not merely an IT migration, but rather a company-wide change project, something that is reflected in the new name 'S4GIZ'.
January 2019 saw the entry into force of the GIZ Employer/Staff Council Agreement on Flexibilisation of Working Hours and Locations. All staff covered by the agreement are permitted to work on a mobile basis for two days per week provided that this does not have an adverse impact on the performance of the organisational unit concerned. Due to the coronavirus pandemic, this arrangement has been extended to five days per week until the end of September 2020 (as at July 2020).
These five areas – modern collaboration and communication tools, information security, digital literacy, digitalisation of business processes, and modern arrangements regarding the workplace and working hours – have helped to ensure that GIZ was well equipped to continue working during the coronavirus pandemic. The company was able to switch rapidly to largely digital operations. Internal processes and workflows were retained, and even project appraisals were migrated to a digital environment. Digitalisation has helped GIZ to continue its business operations in spite of the restrictions.
Sustainable digitalisation takes time
GIZ is now well positioned in terms of digitalisation and was able to switch to mobile working at short notice at the start of the coronavirus pandemic. This is the result of many individual measures. And GIZ's digitalisation-related transformation is not yet complete. It is not something that can be wrapped up within a couple of years. We need to be thinking here in terms of longer time frames of eight to ten years.
Our digital transformation has already gone through several phases since GIZ's Guiding Framework for Digital Change was adopted in 2015. GIZ adapted flexibly during this period to the requirements of each phase and made corresponding organisational changes.
The working group on digital change spent six months laying the foundation in the first phase in 2015 and 2016. Coming from all areas of the company, the members made full use of the mandate given to them by the Management Board, namely to think openly and creatively, and developed 46 measures for operationalising the Guiding Framework. These measures have either been implemented in the intervening years or are currently being pursued.
A company-wide strategic project was set up for the second phase, which ran until 2018. The project coordinated activities, provided information across the company and obtained impetus from outside GIZ. The individuals responsible even implemented measures that were not yet attached to any specific division within the company and drove forward the strategic work on digital transformation. One of the results of this work is the Target Image for Digital Change, which, with its eight dimensions, provides a frame of reference and guidance.
We have been in the third phase since September 2018. With the establishment of the Digital Transformation and IT Solutions (DIGITS) Department towards the end of 2018, digital transformation is now firmly embedded in GIZ's company structure. The former IT Division and the strategic project were incorporated into DIGITS. At the same time, the department was given an extended mandate and is also responsible for IT in the field structure and for new topics, such as operational data protection management. Information security management is also being addressed in depth.
DIGITS does not bear sole responsibility for digitalisation at GIZ. Within their usual scope of responsibility, all departments and corporate units are involved in digital transformation. This is especially true of the Sectoral Department (FMB), the Client Liaison and Business Development Department (AGE) and the Sector and Global Programmes Department (GloBe) with regard to the development of innovative services.
New governance structures were established in 2019 as part of the process of setting up DIGITS. The Digital Board deals with the strategic aspects of GIZ's digital transformation and manages the entire portfolio of digitalisation projects. The Digital Board comprises eight departmental directors general and corporate unit directors and the managing director responsible for digitalisation. In addition, digitalisation clusters were formed to provide technical management for a large number of digitalisation projects. These clusters are geared to GIZ's main business processes. Their members come from the specialist departments involved in each case and from the DIGITS Department.
At working level, more than 50 digitalisation partners around the world are helping to ensure that digitalisation is sustainably mainstreamed within the company. They advise the country offices and projects on digitalisation issues, providing a bridge to Head Office.
GIZ Innovation Fund
As part of the Innovation Fund, a company-wide ideas competition launched in 2017, GIZ staff and partners submitted more than 100 ideas in 2018, addressing ways that digital data could enhance GIZ's service delivery and increase the impact of our projects. The six selected teams commenced an accelerator programme in 2018, which saw them begin to take their ideas to the next level as minimum viable products (MVPs). The results were presented at the start of 2019, and two winning products were selected:
The Voice project collects language data in under-represented languages and makes them openly available for the development of key indicator-based voice recognition solutions.
e-mmunize is an app to simplify and improve immunisation processes in underserved regions.
Digital change in projects
Digital transformation is also changing GIZ's work in its projects. This is reflected in an increased number of projects embracing digital solutions. In 452 ongoing projects (as at 18 June 2020), GIZ is:
deploying digital technologies at project level,
fostering digital innovation in the partner system,
using optimised data and information systems to improve political decision-making capacity,
promoting digital and innovation ecosystems in the partner countries, or
increasing political participation.

The digital-by-default process played a significant role in this high number of projects with digital elements. This requires staff to determine during the appraisal of any new or follow-on projects whether digital solutions can be used. Project work itself is also becoming increasingly digital in nature. The range of possible uses of digital applications is wide, and there are considerable efficiency gains from quicker and more streamlined procedures. We are improving project management, cooperation between project partners and evaluation with the help of digital tools and platforms. For two successive years, GIZ has used its own Innovation Fund to develop digital and data-based solutions. Staff use the internal platform GIZ.Digital Gateway to network and discuss digital issues. Data protection, data privacy and the digital principles provide clear guidance for projects and project planning. A help desk advises all projects on data protection issues of importance in our partner countries.