The classrooms of Dongsun Primary School in the country's southern Khong district have changed since the deputy head teacher, Khambai Theppanya, has been able to use a computer for his work. There are materials hanging on the walls to explain school subjects to the children clearly. Khambai Theppanya researched some of them on the internet. A training session run by the Khong District Community Development Association (KCDA) gave him the skills he needed to use the school computer. Before that, he did not know how to. He has passed on his newfound knowledge to his colleagues.
KCDA is one of almost 200 registered civil society organisations that are promoting digital transformation in the Lao People's Democratic Republic. In the past, the Government did not always take a positive view of initiatives such as these. In the wake of democratic reforms, however, it has now created a legal framework for work by civil society actors. It recognises that they are making an important contribution to the country's sustainable development.
GIZ is supporting this process with the Citizen Engagement for Good Governance, Accountability and the Rule of Law (CEGGA) programme, a flagship Team Europe project in Laos. It was commissioned by BMZ and is cofinanced by the EU and Switzerland. CEGGA supports digital transformation in Laos, initiating dialogue and consultation at all levels of society and also focusing on information and data management. One of the aims is to improve digital knowledge and access by civil organisations, enabling them to contribute towards social cohesion. This is one of the building blocks for networking and involving all social groups, including people with diverse gender identities or sexual orientations.
CEGGA is therefore also supporting the Association for Inclusion and Health of Homosexual, Bisexual and Transgender People by providing training on digital communication. Volunteers from the association can use social media to address target groups from the LGBTI community more effectively and inform them about contraception, sexually transmitted diseases such as HIV/AIDS and treatment options.
Team Europe: flagship initiatives
Operating as Team Europe, the EU and its member states demonstrated their joint support for partners across the globe during the COVID-19 pandemic. Since then, Team Europe has been transformed into a comprehensive multilateral approach to Europe's international cooperation. It involves all of the EU institutions, the member states and their implementing organisations, including GIZ, as well as various financial institutions. Several Team Europe Initiatives (TEIs) have already been launched: these initiatives are flagship approaches with considerable transformative potential that pool the joint efforts of European actors across sectoral boundaries. The Citizen Engagement for Good Governance, Accountability and the Rule of Law (CEGGA) programme in Laos is an example of how sustainable social development is being supported.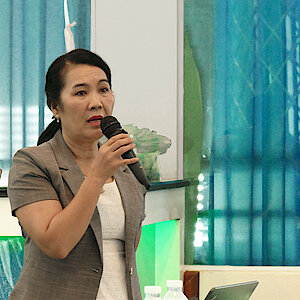 End poverty in all its forms everywhere
End hunger, achieve food security and improved nutrition and promote sustainable agriculture
Ensure healthy lives and promote well-being for all at all ages
Ensure inclusive and equitable quality education and promote lifelong learning opportunities for all
Achieve gender equality and empower all women and girls
Ensure availability and sustainable management of water and sanitation for all
Ensure access to affordable, reliable, sustainable and modern energy for all
Promote sustained, inclusive and sustainable economic growth, full and productive employment and decent work for all
Build resilient infrastructure, promote inclusive and sustainable industrialization and foster innovation
Reduce inequality within and among countries
Make cities and human settlements inclusive, safe, resilient and sustainable
Ensure sustainable consumption and production patterns
Take urgent action to combat climate change and its impacts
Conserve and sustainably use the oceans, seas and marine resources for sustainable development
Protect, restore and promote sustainable use of terrestrial ecosystems, sustainably manage forests, combat desertification, and halt and reverse land degradation and halt biodiversity loss
Promote peaceful and inclusive societies for sustainable development, provide access to justice for all and build effective, accountable and inclusive institutions at all levels
Strengthen the means of implementation and revitalize the global partnership for sustainable development
The 2030 Agenda and its 17 goals are important benchmarks for GIZ.