GIZ has set out basic sustainability standards in its General Terms and Conditions of Contract for procurement. In 2021, the company also made its environmental and social procurement criteria a strategic corporate objective and laid them down in a company-wide policy on sustainable procurement. This is another vital step towards consistently applying sustainability criteria in our procurement system.
The policy means that GIZ already meets the requirements stipulated in the Act on Corporate Due Diligence in Supply Chains, which will come into force in 2023. We undertook important initial measures in 2021. After a self-audit and a declaration of our commitment to minimum standards in procurement, GIZ reached the first of three certification stages as a sustainable procurement organisation.
Sustainable procurement made easy
In 2021, GIZ's Academy for International Cooperation (AIZ) developed training courses on the sustainable procurement of goods and services. The courses are geared towards staff with responsibility for commissions and budgets at GIZ. The basic module focuses on fundamental aspects of the topic and gives tips on how and where to find relevant information on sustainable procurement criteria. The follow-on course addresses topics in more depth, such as applying the criteria in local contexts and possible conflicts of interest with regard to the dimensions of sustainability. Participants can obtain a certificate.
GIZ is pursuing a holistic approach
Short-term and long-term implementation measures, milestones and objectives are set out in detail in an implementation plan.
Products for which there is a high risk of wrongdoings during production, use or disposal, for example office furniture and electrical appliances, are identified and listed on an ongoing basis.
Additional sustainability criteria and recommendations for action in relation to procurement are drawn up for these products.
Staff and business partners are sensitised and trained on sustainable procurement requirements.
Staff responsible for commissions and budgets are given a procurement handbook with concrete examples.

By 2025, minimum standards are to apply to 90 per cent of all goods, services and construction work to which sustainability criteria are particularly relevant. In 2021, we produced a report on sustainable procurement that includes case studies of certain sustainable procurement processes for goods and services. We have also drawn up initial guidelines for products that are often required. They provide staff with responsibility for commissions and budgets with information about potential risks in procuring particular goods and services along with details about the specific sustainability criteria that need to be taken into account, also incorporating regional factors. This applies to refrigerators and air-conditioning appliances and systems, among other things. A total of 36 guidelines are planned for 2025.
Sustainable event management
GIZ organises discussion forums, expert dialogues and training courses to facilitate an exchange of knowledge and views. It follows sustainability principles when organising and running events of this kind.
The Guide to Sustainable Event Management was the basis for GIZ's minimum standards, which were developed by staff members. Since 2020, they have provided mandatory guidelines for running events in Germany and in Brussels. They cover seven fields of activity:
Planning
Guest management
Event location and accommodation
Mobility
Energy and climate
Sustainable procurement
Catering

Specific instructions include, for example, issuing invitations digitally in order to save paper. Guests also receive comprehensive information about environmentally friendly options for travelling to the venue. Tea and coffee served at events must always have fair-trade certification. Furthermore, for all events with more than 100 participants, greenhouse gas emissions must be calculated and offset.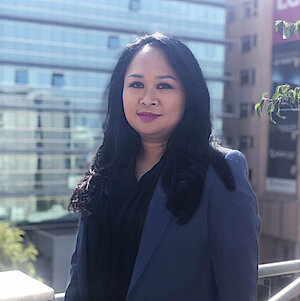 The minimum standards, which are mandatory for Germany and Brussels, cannot be implemented to the same extent in many of the countries GIZ works in. They are therefore adapted to regional circumstances in conjunction with the training hubs of the Academy for International Cooperation. Country-specific guidance documents have been created in this way in Addis Ababa and Bangkok. The country office teams responsible for conducting the Corporate Sustainability Handprint® at local level are also working on sustainable event management measures.
One issue that has become clear is just how important it is to talk with providers of event venues, catering companies and other partners in the country in question early on to ensure that sustainability can be included in considerations from the very outset. In this way, we can canvass support for sustainable event management outside GIZ, too.
INTERNAL LEARNING PLATFORM
An online portal enhances communication and ongoing learning about sustainable event management. GIZ staff can use the internal learning platform on sustainable event management to interact with colleagues in Germany and the countries we work in, discuss specific questions, get information about the latest developments and share their experiences.
Information on the following Sustainable Development Goals (SDGs) can be found on this page: