Taking responsible action around the world
For GIZ, corporate sustainability covers a broad spectrum of issues from human rights and environmental protection to designing new buildings.
GIZ has firmly embedded sustainability in its strategies and management philosophy, pointing our employees in the right direction to take responsible action in their day-to-day work.
With its different dimensions – social responsibility, ecological balance and economic capability – sustainability is relevant at every level. We see political participation as a fundamental prerequisite for taking truly sustainable action. Our approach therefore goes well beyond what is required by law; we have set ourselves ambitious goals.
Pulling together
Everybody is on board: GIZ managers can now include voluntary sustainability efforts made by staff in their agreements on goals. There is a great deal of enthusiasm for this option. Employees are already contributing their ideas in staff initiatives and at meetings of environment teams in Berlin, Eschborn and Bonn.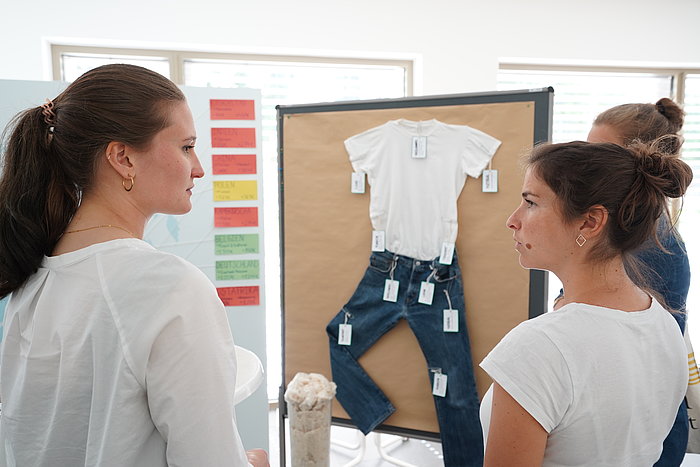 Social responsibility
To realise our social responsibility efforts, we attach particular importance to carrying out human rights due diligence in projects and corporate processes.
Human rights are the top priority
The German Government has implemented the UN Guiding Principles on Business and Human Rights with its National Action Plan for Business and Human Rights 2016–2020. This action plan enshrines firm guidelines for safeguarding human rights in German companies and their supply chains. GIZ takes its responsibility to uphold human rights seriously – not only within our company but also along the supply chain.
As a first step, GIZ performed a risk analysis in two thematic areas in 2019. We examined employment conditions in GIZ offices outside Germany and procurement of materials, equipment and services inside and outside Germany. Based on a roadmap, an internal GIZ working group will put measures in place to strengthen human rights due diligence within the company. Examples of this work include revising basic documents, systematically integrating human rights aspects into procurement processes and raising awareness among staff.
Along with other German companies, GIZ also participated in a monitoring process undertaken by the German Government to implement the National Action Plan for Business and Human Rights. The German Government will publish the results of this process in 2020.
Economic capability
To reach our goals as a company, we have to sustain and strengthen our performance, a step that entails maximising the efficient and sustainable use of resources.
Procurement that leverages change
How can we source more sustainable office furniture? Which social and environmental criteria should publications and other printed products meet? And which sustainability issues can be taken into account when procuring advisory services? These questions are becoming increasingly critical to GIZ given the high procurement volume for materials and equipment, construction, services and finance – topping EUR 1.5 billion in 2018. Procurement is therefore an important lever for enshrining sustainability in GIZ value and supply chains, too.
A recent report on sustainable procurement also illustrates the framework for these processes at GIZ and presents criteria for recurring items, such as building cleaning services and IT hardware.
The Sustainable Procurement team within the Procurement and Contracting Division also developed training formats for procurement officers both in Germany and in country offices within the field structure in 2019. Colleagues were able to exchange information about regional potential and learn from one another at workshops carried out in Addis Ababa and Bangkok. The goal is to promote sustainability criteria in procurement at all locations. GIZ will organise internal training on this issue around the globe again in 2020.
Since 2019, an online course has been available for GIZ's external service providers so that they can learn about corporate sustainability at GIZ: the Guide for Practicing corporate Sustainability (GIZ GPS). This visually appealing tool will serve as a source of inspiration for them to join forces with GIZ in exploring and improving corporate sustainability. In the future, service providers will be asked to go through GIZ's GPS when procurement documents are sent out and will receive a certificate when they complete the course.
Sustainable events
Events, meetings and conferences are everyday occurrences at GIZ. The environmental footprint of these get-togethers is often underestimated. Travel by attendees generates greenhouse gases, waste is produced and energy is consumed – all of this adds up and has a severe impact on the environment. By introducing minimum standards for sustainable event management, GIZ provides guidance for ways to reduce this footprint at locations in Germany. The standards include requirements for the three dimensions of sustainability in seven fields of action. For instance, hotels should be easy to reach by bus and train, digital options should be used to facilitate paperless events and catering should be vegetarian, where possible. A short time before the event, organisers should check which guests are really attending to avoid making more resources available than are needed. Events with more than 100 attendees must be made climate neutral through carbon offsetting.
Catering at GIZ – environmentally, socially and deliciously appetising
Tap water instead of bottled water, vegetarian delicacies instead of meat, and organic fair-trade coffee – catering services for GIZ events in Germany and Brussels meet corporate-wide minimum standards set out in our sustainable event management approach. Disposable cutlery and single-serve packaging are no longer permitted. Leftover boxes are provided at the end of each event so that food from the buffet is not wasted.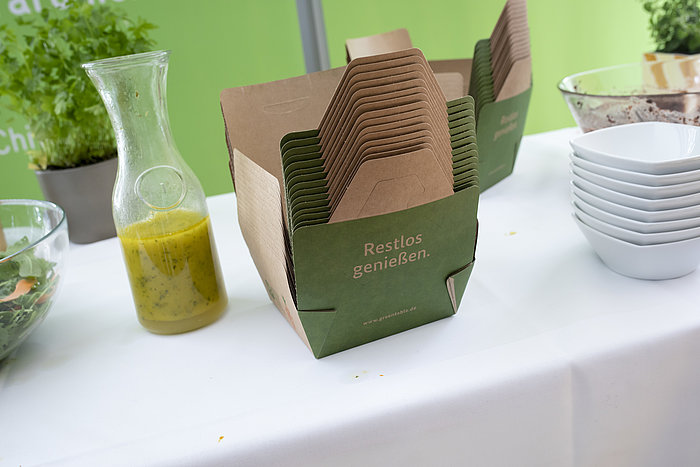 Ecological balance
GIZ has set itself the goal of improving its ecological balance as one of the three dimensions of sustainability. We want to reduce greenhouse gas emissions and consumption of resources, such as water, paper and electricity. Our new offices in Bonn, which meet sustainable building standards, are playing their part in this. For the first time, environmental data is also helping us to offset carbon emissions company-wide (now including our activities outside Germany too) in 2020.
'GIZ's work around the globe is geared to sustainability. That's why it's important that we comply with the most stringent standards, and that includes when we are building for our own needs. By doing so, we offer our staff a workplace that is consistent with our own corporate values.'

Henriette Strothmann, Director of Property 1 Division
(© Henriette Strothmann)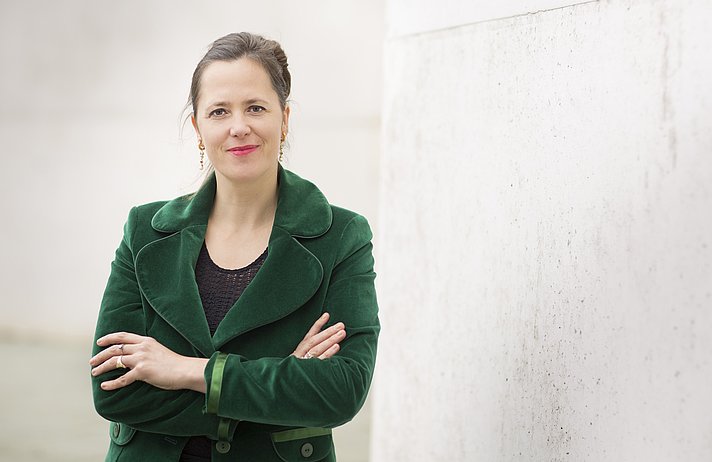 New campus in Bonn wins gold standard
GIZ is investing in modern workplaces: following the completion of a new seven-storey building at the end of 2019, the Bonn campus now offers jobs for 1,500 people – 500 of them in the neighbouring Meander Building that has been open since 2015. Like the Meander Building, the new campus has won gold standard certification from the German Sustainable Building Council. The campus has been recognised for its energy efficiency, resource conservation and healthy working environment. It has team-working spaces and quiet areas. A photovoltaic system on the roof supplies electricity to eight charging stations for electric vehicles.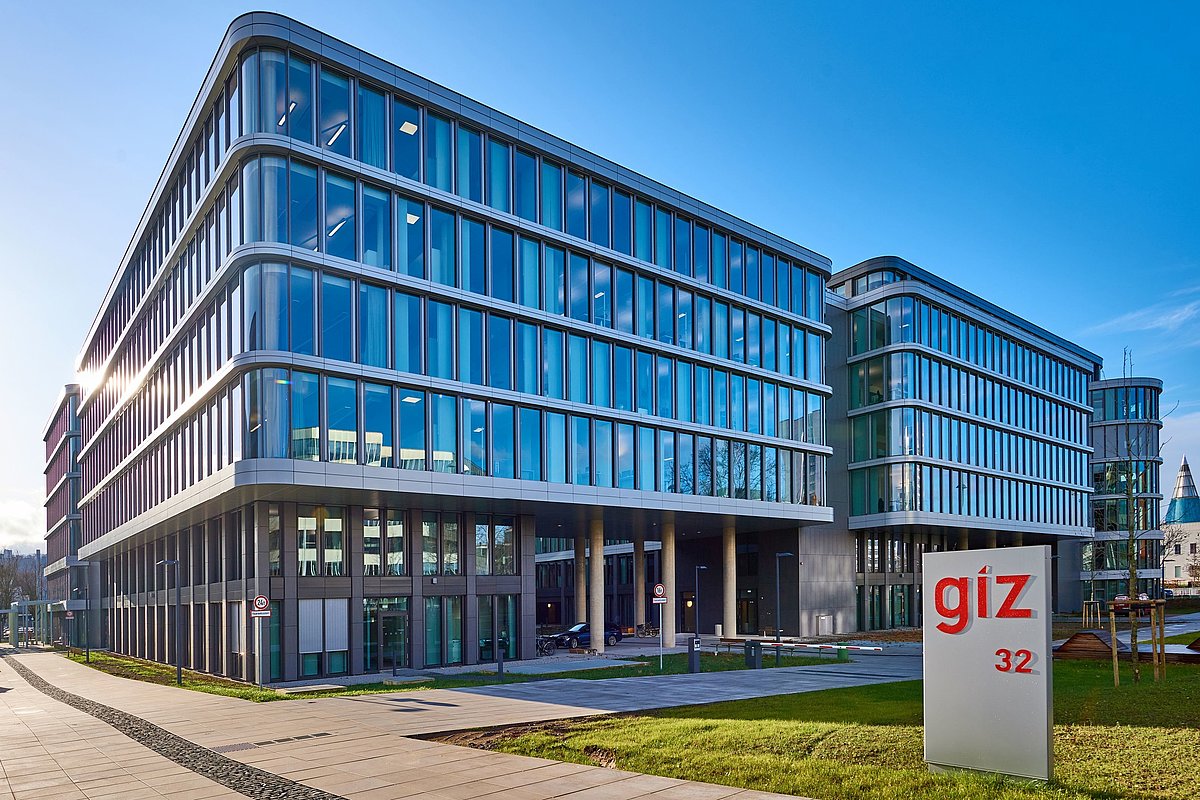 Wildflower meadows instead of lawns
Flowers are in bloom all around GIZ's building in Eschborn: cornflowers, yellow sweet clover and cow parsley attract beneficial insects. Some 700 square metres of lawn have been turned into a wildflower meadow. GIZ is not only offering food, but also a home, for bees and bumblebees. Insect hotels entice these winged visitors to nest – with tangible success: rare solitary bees, whose habitats are highly endangered, have already settled there. These wild bees pollinate many wild plants and therefore preserve natural diversity.
Environmental data from GIZ country offices
With our large number of locations in around 120 countries, it is hard to express the environmental performance of GIZ country offices in numbers. That's why GIZ developed the Corporate Sustainability Handprint® (CSH), a tool that measures the environmental impact of our activities outside Germany. While the environmental footprint measures things such as water consumption and CO2 emissions, the handprint documents active contributions towards sustainability: for instance, installing solar panels rather than generators, arranging carpools for commutes, raising awareness of health issues, providing information about ethical conduct in potential conflict situations, and ensuring sustainable procurement. Moreover, in 2020 GIZ is supporting country teams in reducing greenhouse gases, thereby encouraging them to optimise their environmental sustainability performance.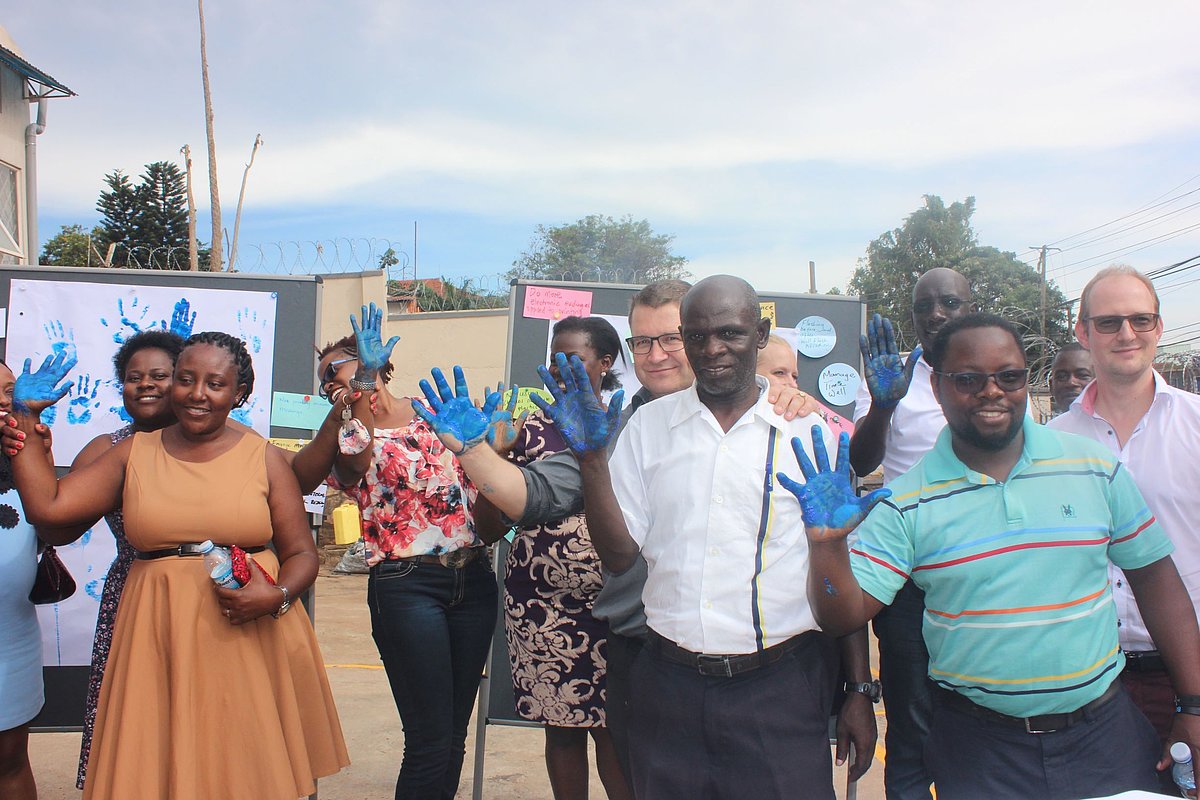 Country offices use the CSH to report on various measures that they have taken to reduce their environmental footprint. For instance, the country office in Thailand has drawn up both the Green Guide to Bangkok, which can help to make daily life more sustainable in Bangkok, and a Green Procurement Handbook. This handbook outlines different sustainability criteria to be included when procuring goods and services.
The country offices in Armenia, Azerbaijan and Georgia have joined forces to create the Regional CSH Exchange South Caucasus. This group promotes and strengthens information sharing by the GIZ offices in the neighbouring countries, helping them to agree on ways to broach specific regional challenges and implement joint measures within the environmental dimension of the CSH beyond national borders.
A few teams are also developing cross-border proposals on ways to advance environmental sustainability across the board at GIZ. For instance, the CSH team from Madagascar and Mauritius has shown that replacing generators with solar panels at GIZ project sites can yield significant potential GHG savings.