'The first year has gone really well.'

Kariem El-Ali, an advisor on digitalisation in local government, talks about his experience as an integrated expert in Jakarta.
(© SKEW)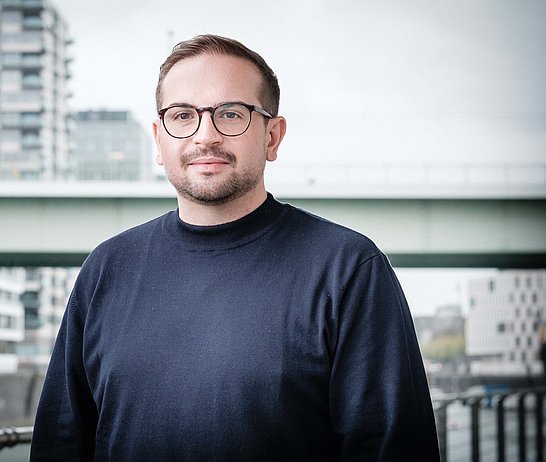 What made you want go to Jakarta as an integrated expert in 2019?
I've been working at the Berlin Senate Department for Economics since 2014, covering issues including digitalisation as it relates to foreign trade. That's why I felt a need to play a part in shaping something on the ground for a change. My current position is a particularly good fit as I spent a month working at Jakarta's city government back in 2016. We had begun to combine Berlin's start-up ecosystem with the one in Indonesia as part of a federal/state pilot project carried out by GIZ. In 2019, the opportunity came up to deepen this cooperation as an integrated expert through the Experts for Municipal Partnerships Worldwide programme implemented by GIZ.
What's so special about the integrated expert concept?
You have optimal working conditions in the partner country. The great support GIZ offers is especially helpful: I have a point of contact in Jakarta who I meet with regularly and who can give me advice. He puts his network to work to help me. You don't have to worry about things like visas, either. Processes are defined and they work. My colleagues in the city government no longer view me as a guest, but as a member of the team and staff. Internal processes and procedures in Jakarta are now much easier for me to understand, and digitalisation and innovation issues have become much more important in Indonesia under the Jakarta-Berlin city partnership.
Tell us a bit about your assignment and your life in Jakarta.
I help colleagues in city government who want to develop their smart city, e-government, digitalisation and innovation skills. For instance, we held an international innovation workshop that attracted 100 attendees last August. In doing so, we brought city government stakeholders together with people from the private sector, universities and non-governmental organisations. As part of the process, we invited companies and smart city experts from Berlin to travel to Jakarta. We also launched a Jakarta-Berlin street festival, which is now set to take place annually in partnership with the German Embassy. Preparing an application for EU funding showing ways that Jakarta and Berlin can work together on digitalisation and innovation has been the most challenging experience of my assignment to date.
Your assignment will last for two years. How do you think things are going at the halfway mark?
The first year has gone really well. We managed to secure EU funding to expand our partnership, for instance. And I'm sure that there will be other tangible results by the end of my time here. One thing that's really important to me is that we successfully implement the EU Smart Change project, which will allow us to create a strategic partnership between Jakarta and Berlin on key issues for the future by the end of 2022. This step will help these two cities to make a joint contribution towards achieving the SDGs.