INTERIM RESULTS OF THE
SUSTAINABILITY PROGRAMME
2016–2020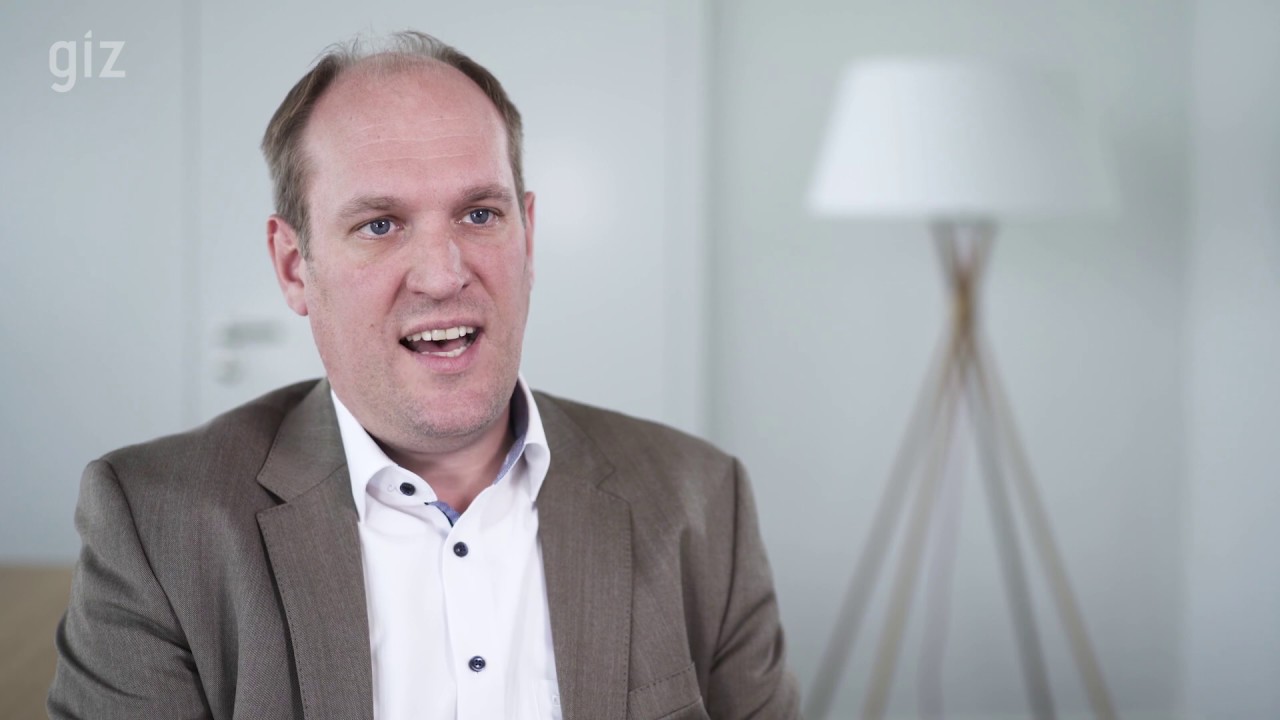 This link opens a YouTube video. Please note the privacy policy valid there.
For GIZ, sustainability means combining social responsibility, ecological balance and economic capability.
We see political participation – which is included as a fourth dimension in the Sustainability Programme and the Sustainability Champions contest – as a basic prerequisite for enabling sustainable development in the other three dimensions. We are taking this step because we want to make our reporting on sustainability even more relatable to the international debate on sustainable development.
ECOLOGICAL BALANCE
We are reducing our CO2 emissions and striving for climate neutrality worldwide. We avoid, reduce and offset CO2 emissions. Our decisions on these are based on valid environmental and climate data. For example, we record business flights, fuel use by company vehicles and generators, and energy consumption. We have very reliable data in Germany thanks to our environmental management system, the Eco-Management and Audit Scheme (EMAS). We are constantly working to improve the quality of data available abroad.
SOCIAL RESPONSIBILITY
We promote gender equality in the company. Between 2013 and 2018, we raised the proportion of women in managerial positions by a total of 7.1 percentage points in Germany and abroad, thereby exceeding the objectives of our Gender Equality Plan. By the end of 2018, the proportion in Germany had reached 48.6 per cent. Although fewer women work in managerial positions abroad (38.4 per cent of such roles are filled by women), here too the trend is significantly above the targets, with a rate of increase of 10.3 percentage points over the past five years.
ECONOMIC CAPABILITY
We operate with an effective compliance management system (CMS). GIZ had implemented a comprehensive CMS by the end of 2018. This is important for GIZ – particularly in light of our work in countries around the world – in order to be able to deliver our services in accordance with regulations and achieve the agreed objectives efficiently. It also promotes a corporate culture that is geared to compliance with rules and regulations and to integrity and anti-corruption. Now that the start-up phase has been completed, the CMS will be continuously refined and improved.
'WE HAVE ALREADY
ACHIEVED MANY GOALS.'
Interview with Elke Winter, Head of the Quality and Sustainability Section at GIZ
INTERVIEW
What does GIZ do to make sure corporate sustainability is successful?
Elke Winter One thing we did was launch the Sustainability Programme 2016–2020. It includes clear objectives, measures and indicators as guidance for our corporate sustainability. Part of the Sustainability Programme is also incorporated into our Corporate Strategy 2017–2019, for instance measures to strengthen sustainable business practices and sustainable procurement.
What themes or priorities do you have?
We are illustrating our achievements to date in this year's Integrated Company Report, using examples of selected sustainability goals that cover three dimensions: social responsibility, ecological balance and economic capability. Our commitment to sustainability means taking equal account of all these different areas, and also looking at the way they interact, their interdependencies and conflicting objectives. This provides the foundation for professional implementation.
2018 marked the half-way point for the Sustainability Programme. Are you satisfied with how it has been implemented so far?
It is very satisfying that we have already been able to achieve many of our goals, and are otherwise on schedule with implementation. For instance, we have met the target to increase our competitiveness by taking relevant steps, such as digitalisation, and to set up a compliance management system. We are still in the process of working towards some goals, such as those for sustainable procurement or increasing the proportion of experts and managers among our national personnel.
https://www.giz.de/en/downloads/giz2017-en-nachhaltigkeitsprogramm-2016-bis-2020.pdf
sustainabilityoffice@giz.de
Read interview
Close interview